This time, we'd like to introduce an addictive adventure golf game to you all; that's, Wonderputt. In here, the players can enjoy lots of great things in one place – ski slopes, torpedos, cows, a sprinkle of alien, toads, and many more things. Feel free to discover slowly one by one! Wonderputt: A game of mini-putt quite possibly like none you've ever played before. Have you got the skill to complete all 18 holes?
Wonderputt
Top Golf Games » Wonderputt
Wonderputt Instructions
Wonderputt is controlled by using the mouse. Mouse over the ball and move your cursor behind it to control the direction and power of your putt. Click to putt.
More Games
Kingball
Flop Shot Minigolf
Mini Putt 3
Galactic Gravity Golf
Gem Golf
Flop Shot Minigolf 2
Adventure Golf
Wonderputt Walkthrough
Wonderputt is a miniature golf game. Don't expect basic windmills, castles, and molehills in Wonderputt though, this gold game contains a wild array of holes ranging from cities, Stonehenge, and even the inside of a torpedo! This golf game features eighteen challenging courses, beautiful isometric graphics, surreal environments, and challenging gameplay.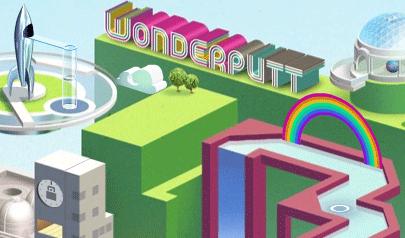 The objective of Wonderputt is to complete each of the eighteen holes in as few strokes as possible. Each hole has its own par, and scoring par rewards three thousand points. If you manage to get the ball into the hole in less strokes, then you will be rewarded one thousand points per stroke under par, but if you shoot over par, then you are penalized one thousand points for each stroke over par. You will always be rewarded with at least one thousand points for completing holes in this golf game, however.
Wonderputt has a simple control scheme, but it may take some getting used to if you have played other golf games. To putt, simply hover your mouse over the ball, move your mouse in the opposite direction that you want the ball to go int, and click. The farther your mouse is from the ball when you click, the harder your stroke will be. An arrow will appear in front of the ball to indicate the direction and power of your putt, so you may use this to aim your shot.
The first nine holes of Wonderputt are quite simple, but things get trickier on the back nine. If you want to shoot under par, try to complete the front nine in as few strokes as possible, because you will probably end up with a few bogeys in the second half of this golf game. Be sure to avoid putting your ball into the water or off of the course. You will not receive any penalty strokes in this golf game, but you will have to putt again from where you were, and in some cases your ball will be placed back at the beginning of the hole!
Wonderputt is an outstanding miniature golf game with enough eye candy to please most casual gamers. If you want to kick back and have a relaxing game of putt-putt, then Wonderputt is just the game for you!
Wonderputt.com
Top 10 Golf Games
#1. Mini Putt
#2. Golf Master 3D
#3. Platform Golf
#4. Graveyard Golf
#5. Midi Golf

#6. Powergolf
#7. Island Mini Golf
#8. Mini Golf 99 Holes
#9. Office Mini Golf
#10. Driving Mad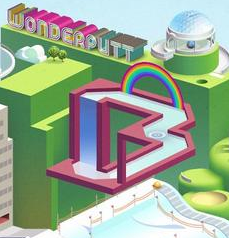 Arcade Friends
AdventureGamesHQ
Fishing Games
NetSoccerGames
YourSportsGames
Pool Games
Truck Games
TopMotorcycleGames
Drawing Games
TopTowerDefenseGames.com
Hunting Games
Fishing Games
Typing Games
ParkingGamesFree
BMX Bike Games
Helicopter Games
Puzzle Games

Related Games
Dumbolf
Who would have thought Dumbo has a golf-playing brother? And, man, he's not dumb at all! Dumbolf showcases a...
Ballero
Ballero is a combination between any golf game you've ever played and every puzzle game you've ever played. It's really...
Pressure Shot
Pressure Shot is a golf game that puts you in the shoes of a European player at an international golf...
3D Championship Golf
Wondered how good or bad you would fare in a 9-hole golf game? Want to play golf BUT can't go...
Wonderputt 10
Pitch N' Putt Golf
Pitch N' Putt Golf is a challenging golf game that is based on the sport of pitch and putt. Pitch...
Silly Golf
Silly Golf is a miniature golf game played from a top-down perspective. Silly Golf features simple graphics, easy-to-learn controls, and...
Wonderputt free online skill golf game. Adventure golf but with cows, toads, ski slopes, torpedos and a sprinkle of alien abduction for good measure. Wonderputt is not the first Flash miniature golf game, but it's probably the most creative one on the web. The game features imaginative animations as it transitions from hole to hole, making it a little more satisfying than your average golf game. The gameplay itself is just like a standard round of golf. You must try to get the ball in the hole in as few putts as possible. There are a total of 18 holes.
Copyright 2017 Brightest Games
Privacy Policy / Contact Us